THE CLASSIC SUREFIRE E1E EXECTUTIVE ELITE
TORCH
This light is a beauty, short, light weight, with considerable power and with a decent run time for an incandescent light
In today's market it is a little obsolete in the power department, as the Fenix line of small pocket/key chain lights put out more lumens and have more features.
Still, the Surefire E1e is the "classic" small light that arrived at a time when 15 lumens was only achieved with big lights using 2D batteries.
The E1e is extremely well made and finished in hard anodized type III in an olive drab finish; it weights 2.20 ounces and has a length of 3.40 inches. The lens is Pyrex and the reflector is stochastic, meaning that is finished with a light stippled pattern that makes the beam free of defects, rings and artifacts.
The light runs on one of the RC123's batteries with a run time of 1.5 hours, the beam is nice, but will not throw far as the reflector is quite small, and small reflectors produce quite a flood.
The tail cap has three positions: unscrewed a couple of turns it will lock up the light (what is considered a safety position); screwed a little more, will allow activation of the momentary position by pressing the rubber button; screwed further, will activate the light on constant.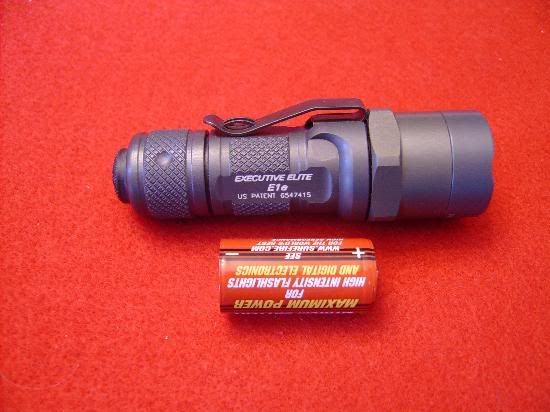 The little light charges the battery from the front, that means you have to take the head out to install the battery, as there is not enough room for the battery to enter if you remove the tail cap, as in most other lights.
The 15 lumens lamp is called MN01, and is 15 lumens of course; the MN02 is 25 lumens but it's used in the E series Surefire that carries two batteries, as is the more powerful 60 lumens MN03.
I see this light as ideal for a woman's purse or a man's pocket. Although the retail price is $79 USD the light is so well made that is worth it. Finally, the light sports a clip that can be used to clip it to the edge of a pocket for quick retrieval, or to the bill of a cap if you need to do some chore using two hands.
Cheers
Watchmaker