The video is in two part. Each part is about 4.5MB in size and runs for about 3 mins.
If you have a slow connection you might want to put it on pause and give it time to download. This is my first go at doing it on the web, so you will need to bear with with me. I was trying to make it small enough to download easy but still retain its viewing quality
If you have any problems viewing it or it takes too long please post and I will try to fix
Anyhow Enjoy!
PART 1 - Saturday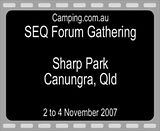 PART 2 - Sunday