ANOTHER PRICE DROP!!!!
OK ... thanks to my new van purchase ... ...
I will drop the price to $4500
... bloody bargain really ...
All canvas is new ...
All canvas is bloody thick ...
We PURPOSEFULLY dont have a floor simply becuase it will always be wet when packing thus damaging the canvas walls and roof ...
A floor can be sewn in for a few hundred $$$ OR you can do as we did which was to use a caravan annexe which folds up and can be packed away from canvas.
Any more queries feel free to PM or email ...
ITEM:
2004 Custom Made Campeer Trailer
CONDITION:
Excellent
LOCATION
Hervey Bay (NOT Perth)
REASON FOR SELLING:
Purchased a van
PRICE AND PRICE CONDITIONS:
$6k
EXTRA INFO:
I have a 7x4ft camper trailer that has been lifted (leaf springs on top of axle) for sale. The trailer was built by a professional trailer manufacturer and to my specifications. The trailer itself is 410mm deep which is deeper than a standard trailer but not as deep as some of the larger offroad trailers as it helps to keep the weight down. It was originally designed to be towed behind a RAV 4 which is a 4cylinder 2.4 ltr motor and this vehicle performed the task brilliantly.
It comes with two annexes. One is fully enclosed and the wall of the other is 50% canvas (heavy duty) and 50% of that meshy fly screen type canvas 9see pics). In otherwords it's partially open to catch the breeze. The sides also come away so you can have just an awning instead of a fully enclosed annexe.
The beauty of this CT is that if you are doing an overnighter it will take approx. 10 mins to set up (Bed and small awning only), but if you are staying for any length of time then you put the rest of the awning(s) up so you have more room to move around in.
There is also a very large toolbox on the front (4ft length) which is brilliant for extra space. The only whinge I would have is that if you put heavy articles in the toolbox and you want to lift the trailer on your own it's a tad heavy but then again you rarely need to be in that position.
There is room for 4 x 4kg gas bottles ... 2 gas bottles come with the trailer and will last you a very long time unless you are using them for a 3 way fridge. We've only ever had the 2 gas bottles.
All canvas is in excellent condition and it is a highly durable canvas and, so long as you look after it, it will last years.
Please note that it doesn't have a kitchen. This is purposeful because I've seen so many CT's come unstuck with those 'trailer door' kitchens so my wife and I opted out of that and just use a camp table for washing up etc. Also, it doesn't have a sewn in floor. Again, this was purposeful because the soft floor CT's eventually go moldy because when you pack the lot up, the floor is ALWAYS wet and this generates mold. To counter this we put down one of those matting style floors that ppl use in caravan annexes and find it much better as any water/ fluid will drain through the material.
This CT was made for 4 cylinder vehicles. It's light (300kg's without canvas ... approx. 400kg's with canvas and gas bottles) but I'd still advise you to check manufactuer's specs for towing if you are genuinely intersted in this CT and you are intending to use a 4cyl vehicle to tow it.
All up we are asking $6k due to the fact that it is in excellent condition
... the trailer is 2.5 yrs old and the awnings are 18 months old (we had them added later by a professional canvas maker). In one way we are reluctant to sell it but as we've just bought a Jayco Eagle we don't get much use out of it and it may as well go to someone who will use it.
If you have any other questions please feel free to PM or email me ...
scolers@msn.com
...
Pic shows the CT all packed up. Note large tool box on front and gas bottles on the side.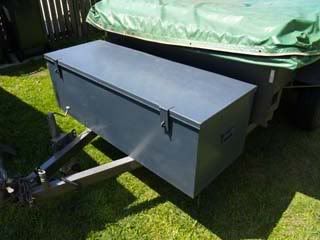 This is the CT rigged in it's simplest form. Takes approx. 10mins to rig. Queen size bed inside.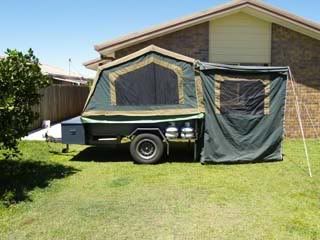 This depicts the CT with the first 'L' shaped annexe. Enough room for 4 adults in double bunks or three adults if sleeping on the ground. Further room for fridge and seating inside if needed.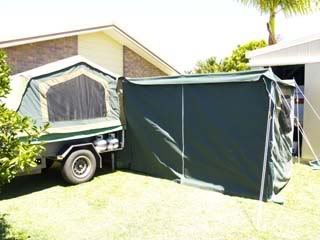 The Camper in it's all glory! As you can see it's quite large ... I had problems putting it up in my backyard. The last annexe can be used simply as an awning but if flies etc. become a problem then simply put the walls on. This is a great communal area or play area for the kids if they aren't able to go outside. Approx. space is 3.4x2.9mtrs square. (second anexe only ... then there is the 'L' shaped annexe which is 4.4x1.7mtrs).
Total area of CT is 4.4x5.1mtrs.