We decided to get out & about for Australia Day, so met up with the parent's in-law for a long weekend of camping at Glendon.
About 30mins SW of Warwick, via Thane, Glendon is a 1600 acre property that can be accessed by 2WD car. The property also caters to a lot of trail bike riders & the occaisonal 4WDer. Don't worry about the bikes either. There is a 5kmh limit that is enforced. The rule is one warning and then you are asked to leave. Same rule for everyone, not just the bikes. For those with pets, dogs are allowed too. Just have to be on a leash or a runner at all times.
We finally got out there to a hot, dusty, dry day with little to no shade left for the tent and the parent's camper.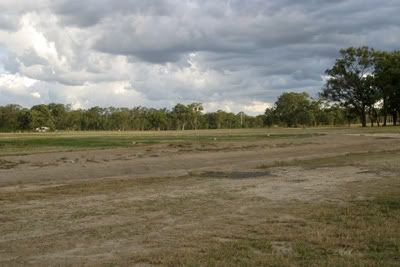 We did manage to get somewhere that allowed for afternoon shade & set up camp. The evening brought with it the usual thunderstorm that tried very hard to tear the place apart.
Saturday morning arrived and you would have barely noticed that it had rained so hard the night before. After breakfast we decided to head over to the dam located on the property. At least we could keep cool here. With the wind coming off the water, it made for a very pleasant spot to sit , swim, drink. Whatever took your fancy.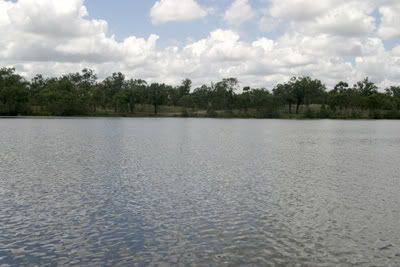 Sunday afternoon and we decided we should take a drive around the 30Km of station tracks that are on the property. The tracks for the most part are VERY easy. The main thing to look out for is the sharp rocks that are all over the tracks.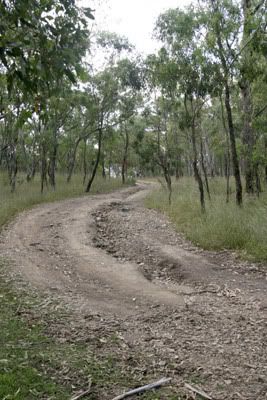 When you get to the property and check in, you are given a mud map of the tracks. The thing is next to useless as most of the time you can't really tell where you are in relation to anything. It doesn't help that there are a lot of bike tracks disecting the main tracks. Anyway, we managed to get ourselves to a nice little picnic area just beside Thane creek. It allowed us to get out & stretch our legs and have a quick look around.
While at this spot, there was a mudhole that would have been great to play in with the Jeep, but we only had the one car & I couldn't see a bike being able to tow us out should we get stuck. I decided that I had better leave it till next time.
The photo doesn't do justice to the drop off into the mud.
A good time had by all. I think it would be nicer in the spring or autumn when it is not so hot.
John.