I thought I would tell you about our weekend away. I took Friday off and my wife & I headed south to Merry Beach, about 20km north of Batemans Bay. What a fabulous spot!! The caravan park provides powered sites with beach frontage. It was a bit windy (sea breeze) when we set up on Friday, but the wind died down in the evening and Saturday was brilliant. Went for a swim then spent the rest of the day lazing around reading. The caravan park has excellent amenities and is very clean & tidy. For caravanners, there is no tap water available to the van - this didn't worry us as we had a camper trailer and took our own water. There is plenty of water available, however. Our site required a 30m power lead to get from the power to the CT. No problem, I borrowed a long lead from the front office. They had the friendliest office team I have come across for a long time. The only small problem was that they don't have a communal bar-b-que area. I had left our bar-b-que at home so we had to go hunting for somewhere to cook dinner on Saturday night.
Here are a couple of photos of the beach and the locals. Hundreds of kangaroos turned up at dusk both nights and also a large number of ducks around.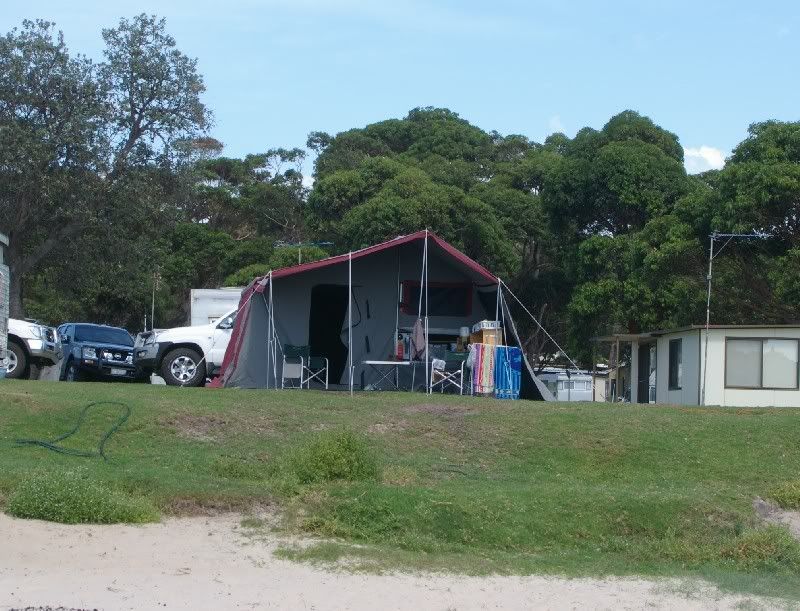 I would thoroughly recommend Merry Beach. Perhaps a bit far for a 2 or 3 day weekend, but the location is superb.
Mal