Black Flag Mosquito Fogger
Black Flag Propane Fogger
We just purchased this propane fogger and it works fantastic!
If you hate mosquitos as bad as we do, you might want to pick one of these foggers up.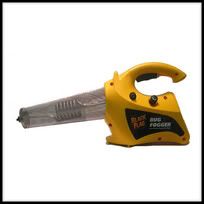 Click Here: Black Flag Propane Fogger
The Black Flag Fog Juice comes in different size containers. On the side of the Fogger,
there is a cap that un-screws and you pour the fog juice in. On the back side of the
fogger there is an opening that you screw in a 1lb. propane cylinder into. Turn on the
propane, hit the ignition switch to ignite the unit. The internal burner assembly will heat
up the fogger coil, you need to let the unit heat up for about 2 minutes, walk around the
campsite and press the trigger to blow out the fog. It really works good, my cousin has
a unit and has brought it to the last two campouts. So Chris and I went to Lowe's and
picked up a unit for ourselves.
It gets rid of the Mosquito's for about 12 hours!