Stockton Beach
Newcastle's playground of sand, Stockton beach, is a haven for 4x4's, Motorbikes and fishermen alike. Only 2hrs drive from Sydney it provides the perfect weekender for campers or day drip for fishing, swimming, or just playing on the dunes. The beach is patrolled by rangers, and you need a pass, which can be purchased from the Service station on Lavis lane, the main entrance to the beach. Passes are $10 per day/weekend, or $30 for a yearly pass which starts in March for some reason, so its best value for money to buy them then. There are no toilets or showers, and it's more or less a 'camp where you like' free for all. Some common sense thing to keep in mind though; Since 4x4's and motorbikes are constantly cruising up, down and around the dunes, and there's no real 'corners' where you can set up camp, out of the way of potential traffic it's a good idea to mark the areas around with something that will stop vehicles ploughing through your tent in the morning
. Another good idea is a sand flag mounted to your 4x4 for a bit of safety when flying over the crest of a dune.
Despite the amount of traffic on any given weekend, its still a nice spot to visit, the motorbikes tend to be the most annoying as they like to start riding fairly early (about 9pm is early by my standards when camping), but nonetheless if you choose your spot wisely you can probably avoid this too. Expect to get sand EVERYWHERE, and it's a good idea to spray the under body of you're vehicle with fish oil or a similar rust preventing treatment a few weeks before you go. I say a few weeks before because if you spray the fish oil on just before you go the sand tends to stick to it, and it doesn't wash off too easily.
Some tips to remember when driving on the sand, always drop your tyre pressures to at least 15psi to start with. If you've got a light 4x4 with a fairly powerful engine you can probably get away with higher but 15psi just makes the car work so much less, and the drive will be easier. If you get stuck or find the car is struggling, don't be afraid to go down to 10psi. And if you get stuck and have no1 around to pull you out, drop them as low as 5psi, but drive very carefully with such low pressure cause you don't want to roll the tyre off the rim. It's always best to travel with at least one other 4x4, and make sure you both have proper, rated recovery points and at least one snatch strap between you. A shovel can also be a valuable tool if you get stuck. Some of the dunes can be surprisingly steep on one side, so either follow existing tyre tracks, or proceed slowly with caution.
Also keep in mind that, since your engine is working much, much harder on sand you will burn a lot more fuel than usual, and it's a good idea to watch the temperature gauge closely. I tend to get about 25-30L/100km on sand, compared with 10/11L/100km on bitumen. So either top up before you go on or take a jerry can for the unexpected.
Some sights to check out are the Signa shipwreck, and the fishing huts. Also, after rains some of the depressions in the dunes fill up with water and become freshwater lakes, great fun to swim in and/or drive through.
- The Shipwreck
- Camp Bodgey. Had a lenght of rope about 40m long... didn't want to cut it
. So about 1/2hr of true camping ingenuity and a fair bit of head scratching and my tarp was up
- View from 1st campsite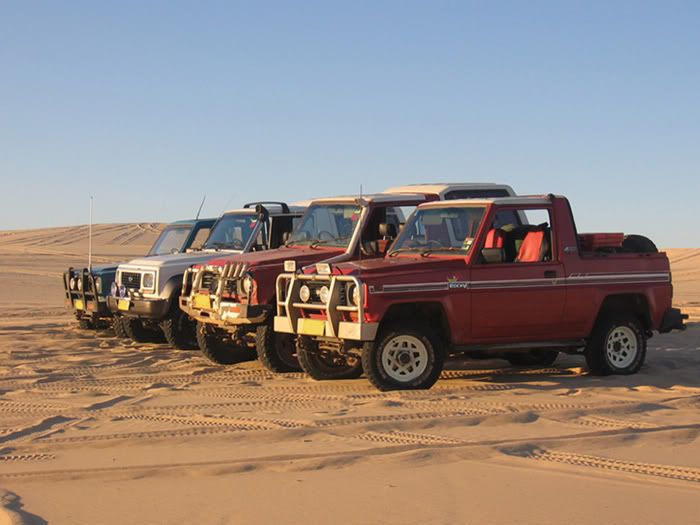 -Posers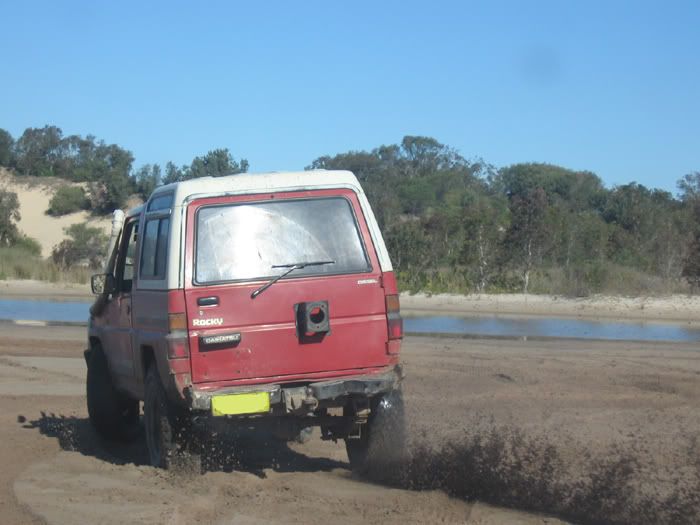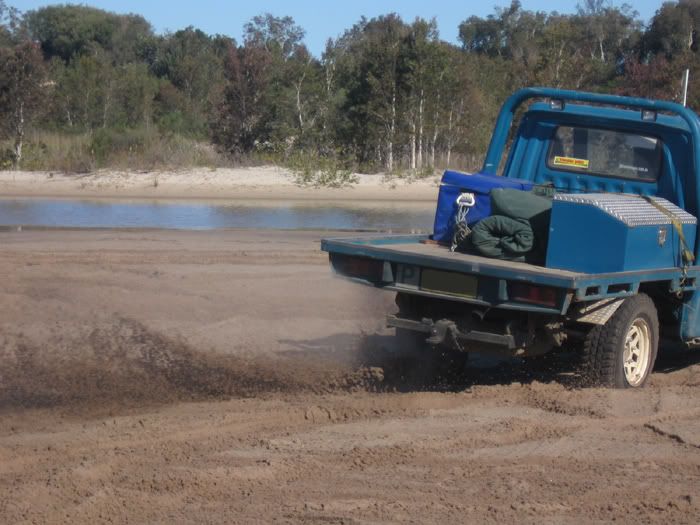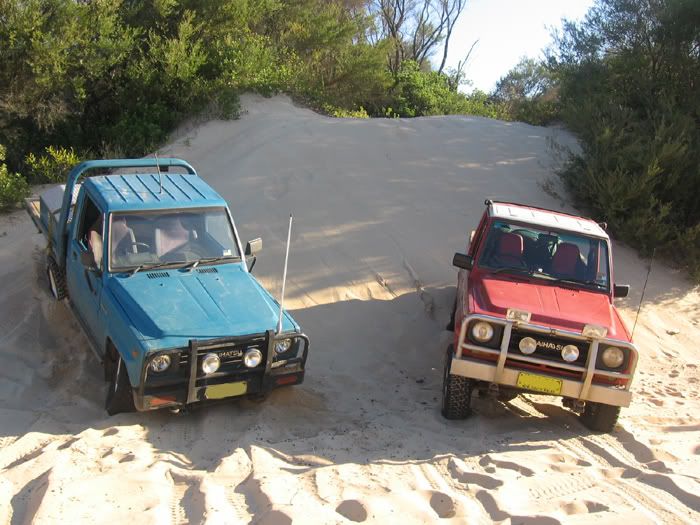 - Tried reversing up, made the passenger jump when it started sliding sideways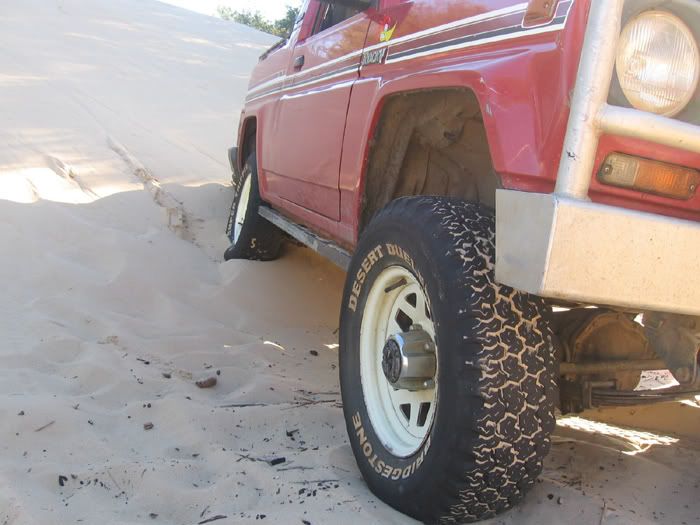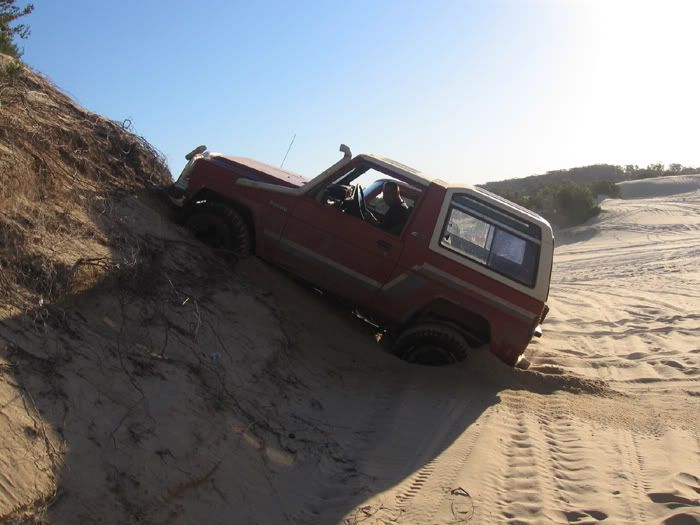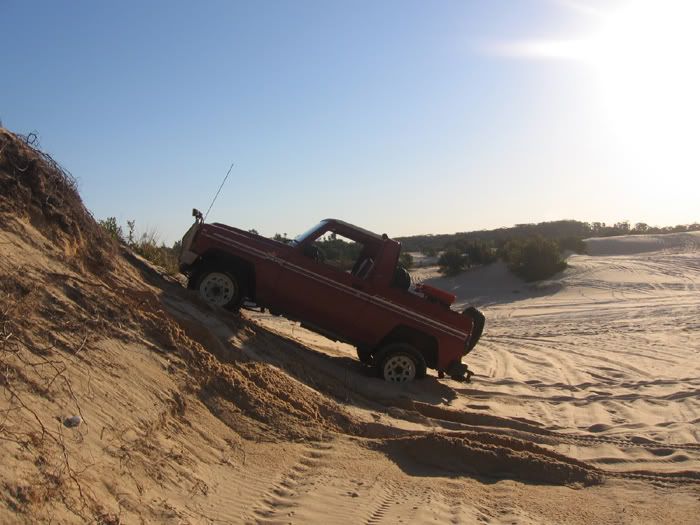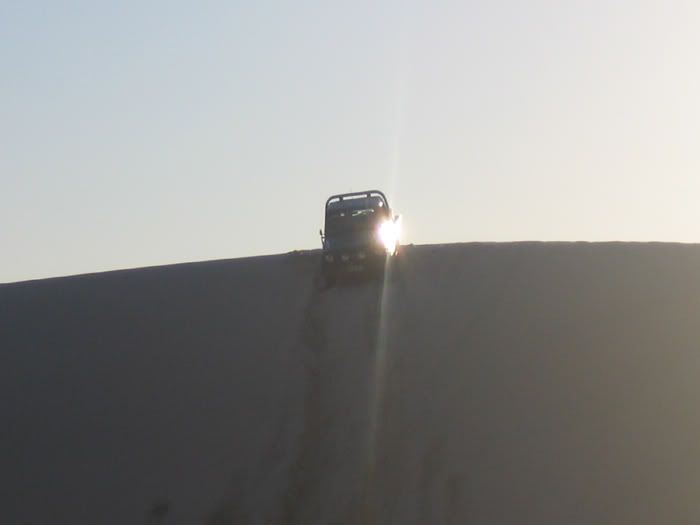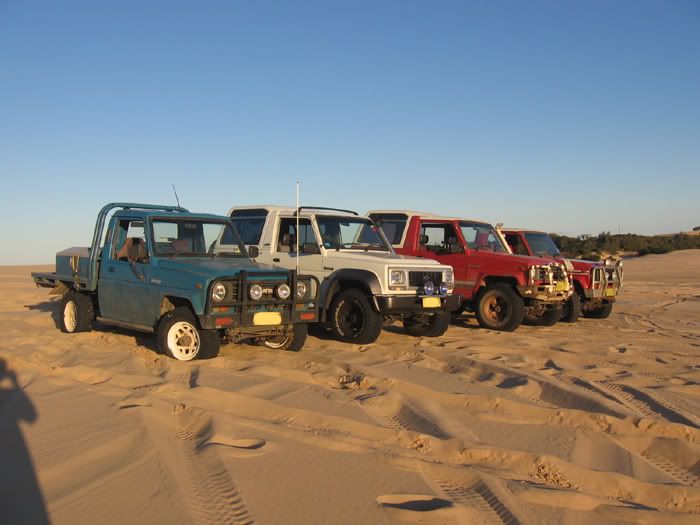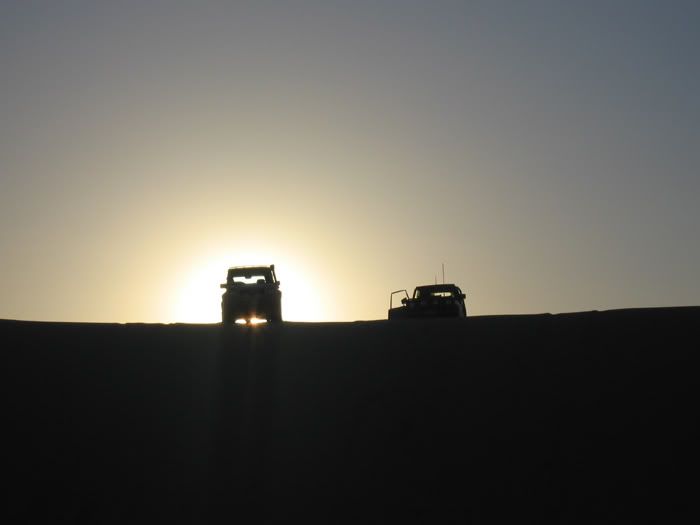 - Probably my favourite
woops, driver error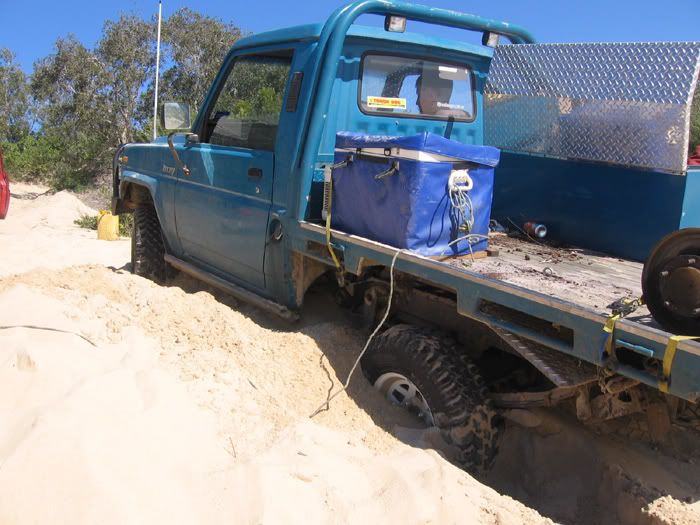 - same as above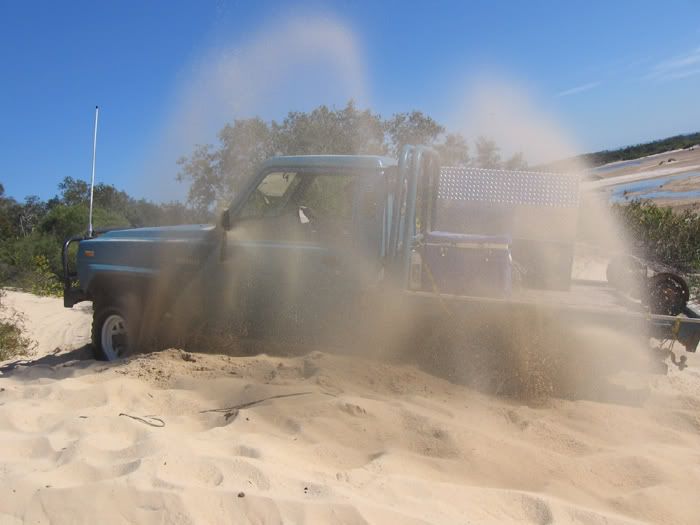 - Mother always said, 'Kids who play with fire get burnt'
. Notice how the hair stops about where the sleeves did
. He also lost sum off his fringe and eyebrows - don't ask how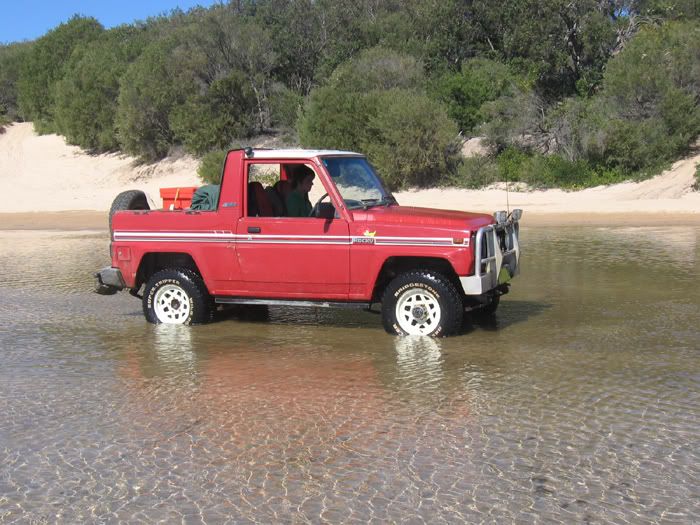 - I wish i coulda got more reflection off the water with this one, i'm guessing I need to have taken it at dusk with the sun behind me