FINALLY getting around to posting about our trip to Lightning Ridge on the October long weekend.
Had a great time. We went with another family that are really great friends of ours. 4 adults & 5 teenagers in tow....
Left Sat morning nice and early. We made a stop in Gilgandra for morning tea at a lovely little coffee shop in the main street. Poor young waitress had her eyes pop when ALL of us walked in and ordering was a drawn out process with so many hungry teenagers, but the meal was delicious and the best coffee I've had in ages!!!!!
Got to Lightning Ridge mid afternoon (outside visitors centre)
Checked into the Opal Caravan Park after driving through town. The park is basically across the road from the Artisian Bore Baths....or 'Asian Whore Baths' as one of the teenage boys that was with us mistakenly called it, poor kid still hasn't lived that one down...
On check in we were given a drill with a 4ft bit attached which was to help us get our pegs in, worked beautifully!!!!! The park was really lovely and is only 1 year old. We had booked ensuite sites to spoil the kids a little and every two sites are separated by lovely gardens. The amenities are spotless and the main amenities blocks has glass shower screens which is a great idea other than a shower curtain as everything doesn't get wet... Camp kitchen is great and has a lovely big TV on which we watched the Swannies win the Grand Final.
They also have a fire pit which is lit every night and twice over the weekend a lovely couple entertained the crowd by busking and telling jokes....they were quite funny.
Some pics of the park & our set up....
Fire pit...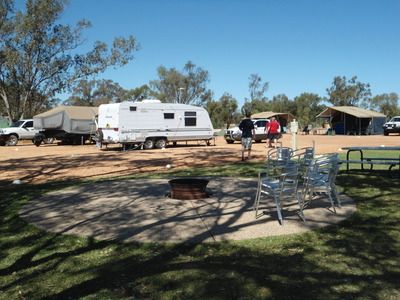 Camp kitchen...
Our setup...love my Customline so much I never want to come home
The two CT's
Part two next post........